Sciatica Treatment in Jacksonville
Sciatica is a type of nerve issue that causes pain anywhere between the hip and the back of the leg. Sciatic nerve pain sometimes reaches as far as the knee and lower legs. It's a chronic condition that usually does not resolve without intervention. At Amazing Spine, we have been providing residents of Jacksonville, FL with chiropractic care for sciatic nerve pain relief for many years. Our chiropractor can help you find relief from sciatic nerve pain and let you get back to your life without the constant aches and zaps.
Schedule your appointment today by calling us at (904) 320-0808.
What Is a Sciatica?
Sciatica is a specific type of pain that runs from your lower back to your lower leg. It usually affects one side of your body at a time and may not be a constant pain. It's called sciatica because the pain is generated by the sciatic nerve, which exits the lumbar spine and runs down each leg for major muscle control and movement.
The main causes of sciatica include a misaligned or damaged vertebra, a bone spur, herniated disk, or spinal stenosis (narrowing of the spine) which places pressure on one of the sciatic nerve branches. When any one of these conditions is present, the sciatic nerve gets compressed or pinched and sends out a pain signal.
Symptoms of Sciatica
The symptoms of sciatica include pain and a burning sensation that radiates from the lower back down leg down to the foot. You may find yourself having difficulty walking as the pain radiates from the shock of taking a step or sitting becomes uncomfortable over some time. Sciatica patients also experience discomfort when sitting in standing in certain positions. The pain can be located anywhere between the lower back and lower leg reaching to the calf.
You may feel pain in one area, or you can experience pain in multiple places at the same time. Pain locations include:
Lower back
Hip
Buttock
Knee
Calf
Foot
How a Chiropractor Can Help Manage Sciatica
Chiropractic care addresses the mechanical cause of sciatic nerve pain. That is, the musculoskeletal system has failed in some way and has allowed a vertebra or disk to move out of alignment. That misalignment puts pressure on the sciatic nerve and causes pain. A chiropractor can uncover the cause of the pain through musculoskeletal assessment and imaging techniques and create a plan of treatment to gently restore the spine to its original alignment. Addressing the issue through chiropractic care causes the body to readjust itself so that it stays in proper alignment.
For more information on sciatic nerve pain treatment or to schedule an appointment with our chiropractor, call Amazing Spine Care at (904) 320-0808.
Before and After Treatment X-Rays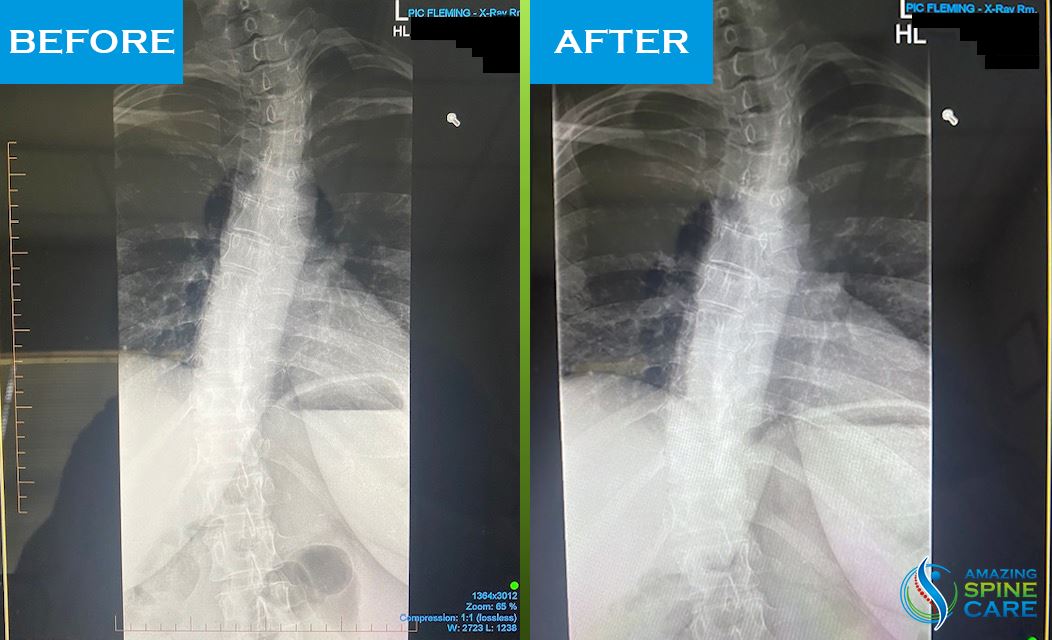 YOUR JOURNEY TO Wellness Begins Here
PATIENT TESTIMONIALS
Experiences & Opinions
"I wholeheartedly recommend Dr. Khiger to anyone seeking a skilled and compassionate chiropractor."

Ned

"Amazing Spine care on Dunn avenue is amazing"

Tiffany

"They were very friendly and professional."

Alessandra
Learn Why We're Your First Choice
Patient Education About Lifestyle Changes & Exercises to Reduce Back Pain

Treatments Safe for Infants, Adults, Seniors & During Pregnancy

Flawless Reputation With Patients & The Community

All Options Are Considered to Personalize Your Treatment Plan

Unique Chiropractic Services Available

Services Also Available in Spanish & Russian